Check-In at airports is indeed a very special process in the passenger journey. It may be full-service check-in, or it may be done online, or at kiosks, and may include self-bag drop. The process will be slightly different wherever you are, may change from day to day, and in general, will be challenging to measure. But why is it like this? Why is Check-in not similar to security or any other process at an airport?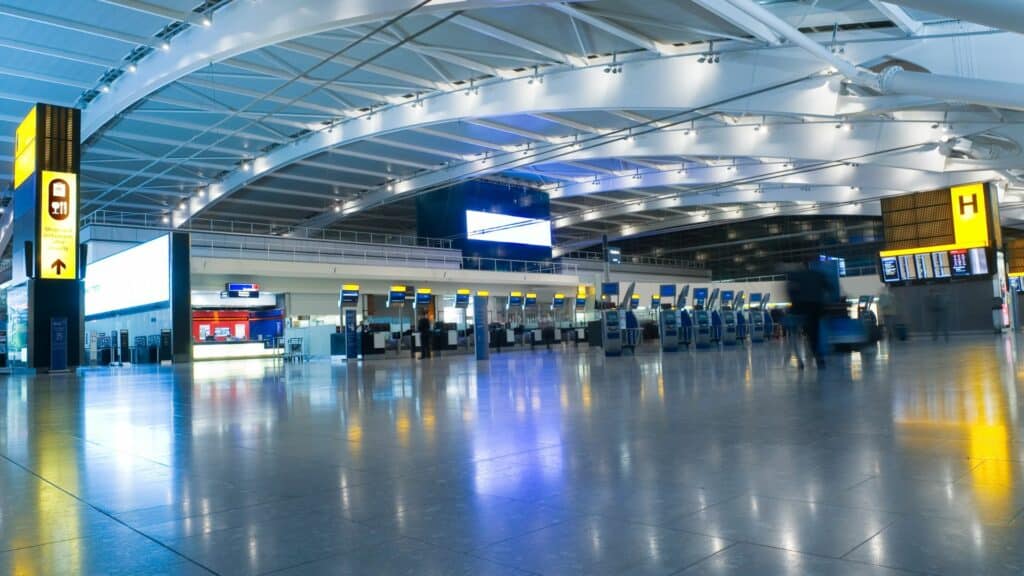 Building anatomy
Remember your last trip to an airport? If you ever looked at the architectural design of airports, you might have realized that check-in halls are often very high, open, and shiny. Architects strive to create a modern, open atmosphere, and check-in halls are designed to make an impression. It´s the first indoor experience you have as a traveler when arriving for your departure flight. After check-in and en route to security, the ceiling will start to get lower. This is also for practical purposes: beyond security, the airport is not a public area anymore and for security reasons building structures must eliminate the possibility of forbidden goods being passed or thrown over the checkpoint. For architects, this is a practical design element. For measurement systems this means a totally different deployment scenario, especially for top-down measurement systems like video analytics that must be installed in the ceiling. The lower ceilings require many more cameras to get total coverage of the area. Check-in halls on the other hand require fewer cameras to cover a similar area but are more complex to install due to the high ceilings and open structures.
Infrastructure Costs
In addition to the architectural challenges of hanging a sensor on a 16m high ceiling, there is the infrastructure required in terms of cabling for this sensor to run. Standard camera-based applications need a wired connection to transmit their data to a data center for further processing and preparation for user interaction. In some cases, this means almost equivalent costs or even higher for the cabling as for the camera itself (and they are not cheap). To compound matters, there are usually different teams engaged for the cabling and the final mounting of the camera. This requires the use of specialized scissor lifts and after-hour work to be repeated for cabling and camera installations.
Unstructured & Dynamic Flows
The next complication is due to stakeholder involvement and responsibility. Where a security checkpoint is clearly handled by one organization, check-in has many stakeholders. Every airline or handling agent might have a different way of handling passengers at check-in and therefore the process might vary a lot. This can lead to queues without specific lanes, overlapping queues from different check-in counters, and people moving back and forth in search of the right counter.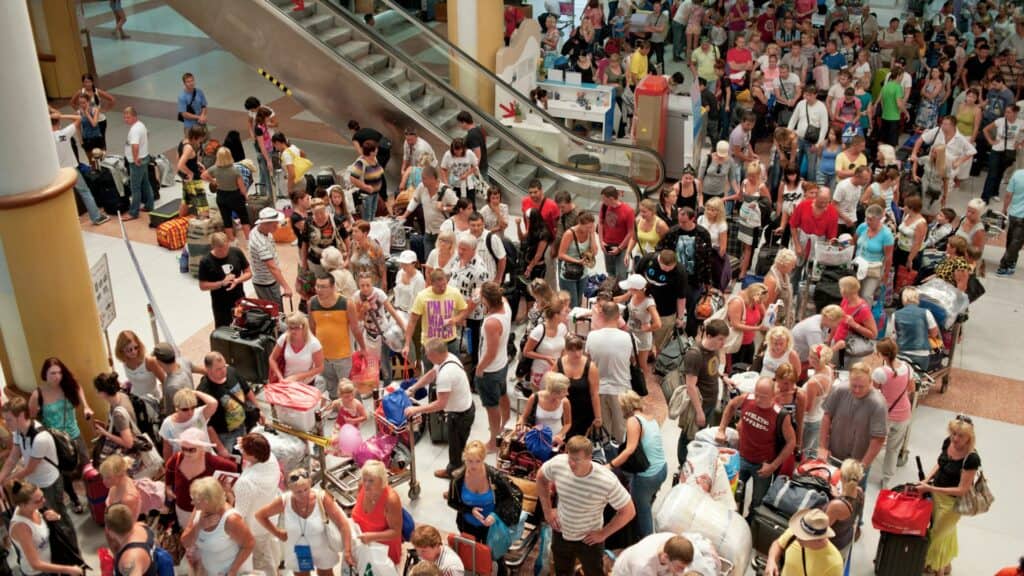 This very dynamic situation is something camera-based measurement systems can't handle. Why? They need a fixed area where they measure entrance and exit counts to calculate waiting times. They are not able to automatically expand this measured area to the size needed, just to determine that the queue in front of counter 1234 is bigger today than usual. In addition, they can´t detect if there are two separate queues overlapping in a measured area. They will just detect them as one crowd waiting, even if this is not correct.
A New Approach is Required
All these issues with camera-based measurement systems lead to a simple question: Why isn´t there something easier to handle the measurement of check-in queues?
Now there is AMORPH.senses, a LiDAR-based queue measurement system that will solve all these topics.
AMORPH.senses is the new way of measuring complex queues focussing on:
UNIFIED INSTALLATION – AMORPH.senses BOXY can always be mounted at the same height. Between 2.5 and 3.5 m is the ideal height and thereby very high (or even very low) ceilings are no longer of relevance.
MOBILE SETUP – All BOXY devices are able to communicate via WiFi or 4G/5G enabling savings on infrastructure and the time and cost of extensive cabling work.
ADVANCED QUEUE DETECTION – AMORPH.senses 3D Perception software is the only solution on the market able to detect queues from their origin, wherever they go. Overlapping queues are no issue as every queue is tracked from the processing point where it originates.
With AMORPH.senses you will get a complete, in-depth view of your entire Check-in area no matter how complex it is structured, or the Terminal is designed.
Airport Queue Measurement at the next Level. Check it out and contact us for a Trial.